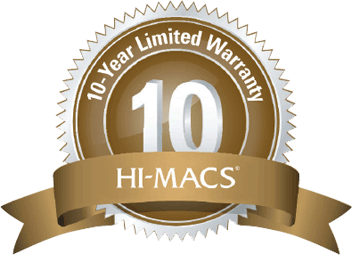 Quality pays for itself: With its 10 year limited installation warranty, HI-MACS® offers the longest warranty of any Solid Surface manufacturer on the market
Every HI-MACS product (except external facades) has a warranty of 10 years when the fabrication and installation is done.
Warranty Applications
This limited warranty covers all HI-MACS® products manufactured and or marketed by LG Hausys.
The warranty covers also finished products when fabricated and installed by the HI-MACS®. LG Hausys expressly warrants to the owner of a HI-MACS® installation made following the application, fabrication and installation guidelines published by LG Hausys for HI-MACS®, that it will, repair or replace HI-MACS®, if the product fails due to any product manufacturing defect during the first 10 years after installation. LG Hausys will cover in that case the costs related to installation, transportation and fabrication on top of the material.
This warranty will not apply to damage caused in the following cases:
1. Improper fabrication and installation of your Hi-MACS®:
fabrication and installation not done by a HI-MACS®;

failure to follow procedures recommended in the application, fabrication and installation guidelines (sheets 6 mm for vertical application, 9 mm for horizontal application without heat source and 12 mm sheet for horizontal application with heat source or more structural support);

faulty or improper installation, including seams (need to use HI-MACS® adhesive only);

a non-authorized modification of the installation.
2. Failure to apply the HI-MACS® use & care guidelines including:
improper or inadequate general maintenance;

hard chemicals or physical aggression of the installation;

exposure to excessive heat due to direct heat (e.g. hot pots and pans put without protection on the surface without trivet with rubber legs or protective pad) or due to a bad thermal isolation (e.g. for cooking plates, bains-marie, etc.);

pouring boiling liquids into HI-MACS® shapes without running the cold tap as well;

force majeure.
3. HI-MACS® colors and gloss finish of HI-MACS®:
The basic HI-MACS® material is identical for every color but it is important to note that darker and more heavily pigmented colors will show dust, scratches, haziness, marks left by hard water and other ordinary wear and tear more noticeably than lighter textured colors.

Therefore colors marked with a * are less suitable for applications that are exposed to extensive surface contact such as worktops located in heavy traffic area as an example.

Due to specific characteristics and properties of the Marmo colors, which have a veined effect, special consideration has to be taken into account with jointing and the use of coved up-stands. Veining may vary from sheet to sheet.
4. This warranty is applicable until superseded, only on installations:
installations which have not been moved from their original location;

installations that are properly maintained and used applying the Use & Care guidelines.
5. Facade Installation
The 10 year installed warranty on material defect is not applicable to external façades. However some specific colors used in external applications (including facades) benefit from a 5 year warranty on UV resistance. Their color-fastnesses are guaranteed 5 years for a tolerance of Delta E3 to Delta E4, according to the color:
For ΔE3: S02 Almond, S09 Cream, S28 Alpine White, G34 Arctic White, G38 Sea Oat Quartz, G48 Beach Sand

For ΔE4: G02 Grey Sand, G04 White Quartz, G05 White Granite, G30 Ivory Quartz, G41 Confetti Quartz, S302 Opal, S33 Nordic White, S34 Diamond White, S29 Ivory White.
This UV resistance warranty relies on our knowledge at the present time. Therefore any HI-MACS® color not mentioned above is not covered by the 5 year UV resistance warranty.